Geluiden uit de natuur
GELUIDENBOEK
Herkennen van vogels
is vooral het herkennen van hun zang en hun roepgeluidjes.
In het veld merk je de meeste vogels pas op als ze roepen of zingen,
anders zie je ze vaak niet eens tussen de bladeren of hoog in de lucht.
Iedereen die meer van vogels wil weten,
zou zich in elk geval de geluiden van de bekendste soorten eigen moeten maken.
Vogeldagboek wil daarbij graag een handje helpen.
Als aanvulling op de foto's en de beschrijvingen
is Vogeldagboek in mei 2009 gestart met een reeks 'geluiden uit de natuur', ook van andere dieren.
Deze rubriek wordt doorlopend bijgewerkt en uitgebreid.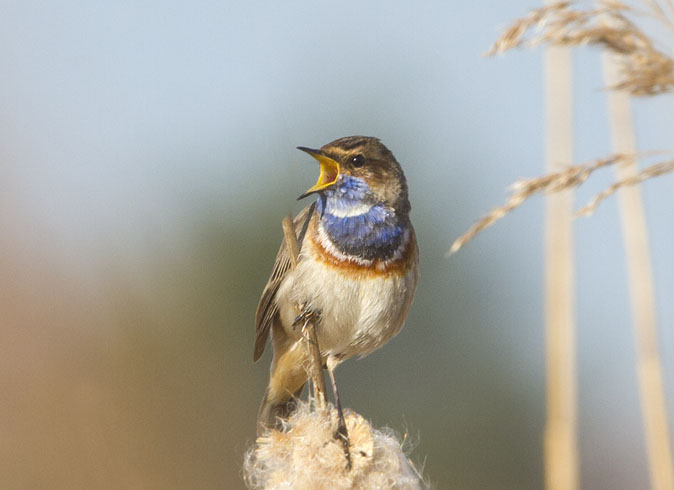 De opnames

zijn gemaakt door Sjaak Schilperoort (tenzij anders vermeld),
dé man van de om zijn soortenrijkdom bekende Vogelplas Starrevaart in Zuid-Holland.
Hij gebruikt voor zijn geluidsopnam
es een MZ-RH1 walkman van Sony
in combinatie met een Sennheiser MKE-400 richtmicrofoon.
Dat is een compacte en lichte combinatie die heel natuurgetrouwe opnamen geeft.
Het copyright
van de geluidsopnames berust bij Sjaak Schilpero
ort.
De geluiden mogen op eigen computers vrij worden gebruikt om te beluisteren.
Voor publicatie, verspreiding of welk ander gebruik dan ook
is zijn toestemming nodig. E-mailadres: sjaak apenstaartje xs4all.nl


De foto's in Geluidenboek zijn van AdG/Vogeldagboek, tenzij anders vermeld.
Klik op een naam hieronder en vervolgens op de oranje pijl naast de luidspreker.